BLANK BUZZ CLUB
RADRENNBAHNDECK I—IX, BUNSHAFT X PISTE — 2016
8 - 29 May 2016 — SOUNDSEEING, Ausstellungshalle Am Hawerkamp, Münster (DE)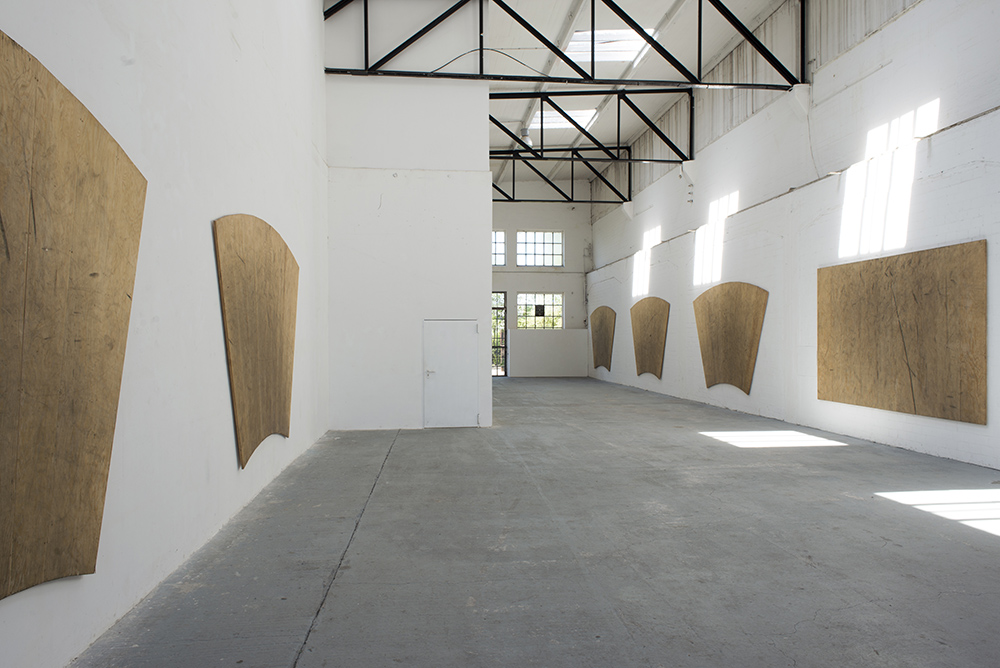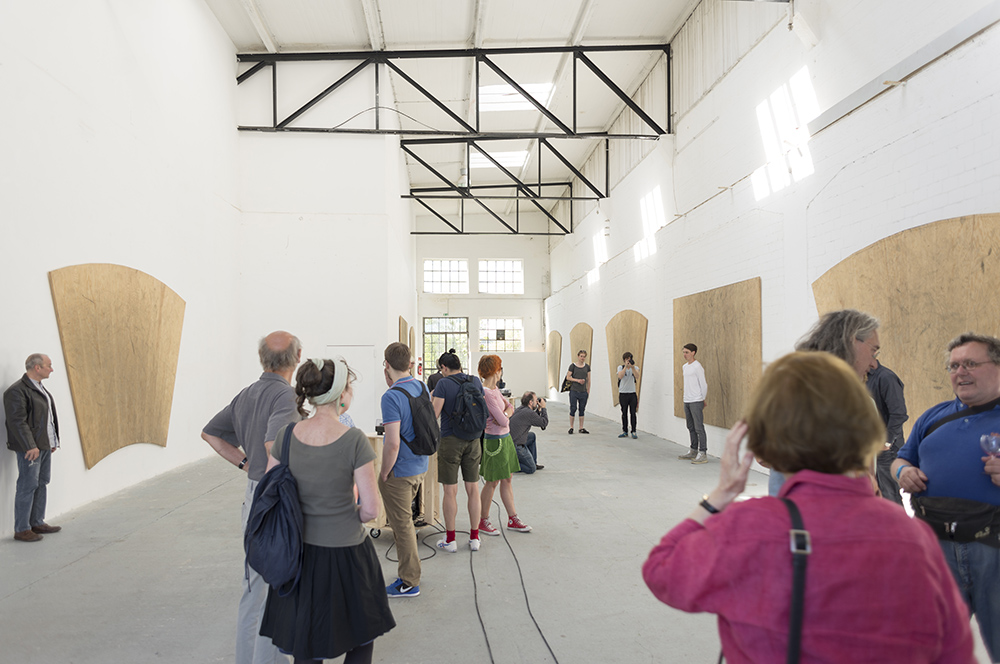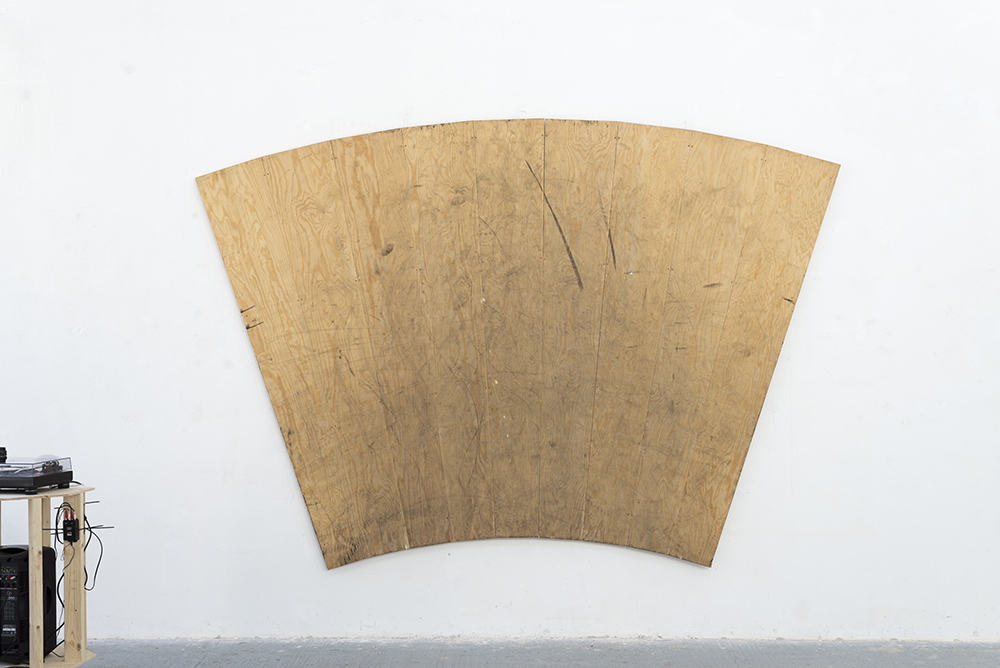 BLANK BUZZ CLUB presents the final stage and therefore the culmination of a series of artistic works which began with the for Ginckels groundbreaking project PISTE, a museum-sized velodrome first built in 2010 and which granted him the 2011 BOZAR award at the Young Belgian Art Prize.
In BLANK BUZZ CLUB nine wall pieces accompany a set of looping turntables. The wall pieces are titled RADRENNBAHNDECK I—IX and are just that: the upper deck of Ginckels' much used velodrome sculpture, unfolded and collaged into a series of large, intricate surfaces. RADRENNBAHNDECK I—IX absorb and reflect the sounds of a brand new vinyl record, BUNSHAFT X PISTE.

Last Autumn, Ginckels installed PISTE on the Esplanade in front of the renowned Brussels headquarters of ING Bank, a building designed by american architect Gordon Bunshaft (1909-1990) in the year 1963.
"I see the Esplanade as a playground where objects have pride of place: the rhytmically structured facade of the ING building, flagpoles, a ramp, flower pots, and then that steel plinth on which a sculpture of Henry Moore once stood," Ginckels explains.
To this colourful ensemble the artist added one metal and nine wooden sculptures. "The volumes appear abstract until they are puzzled together to form a concrete object at a specific moment: a cycling track on which four riders ride live laps." This happened on Saturday 12 September 2015, as two ING bankers and two performers competed to ride a record number of laps in fifteen minutes — a scaled down world hour record. The sound from this performance — the noise of bicycles on the velodrome mixed with the Brussels soundscape — was recorded as to capture the sonic uniqueness of PISTE exposed to this specific location. A sound piece consisting of two locked groove loops — noise on steel and plywood —is compressed onto vinyl as a multiple limited release.

For SOUNDSEEING Münster, BLANK BUZZ CLUB premieres the recording BUNSHAFT X PISTE as two constantly shifting audio loops in space, surrounded by the 'minimal' and dismantled residue of PISTE.
The nine wall pieces and two audio loops reveal a multi-faceted story that is strictly conceptual in energy, circuits, context, production and reproduction, but which on the other hand grants physical, sensual experiences: sometimes volatile and elusive, at other times extremely tangible.

Architect and artist Pieterjan Ginckels (*1982) lives and works in Brussels. The Belgian's practice concerns itself with the acceleration of modern life and he demonstrates this through exhibitions and experiences that interweave spatial, artistic and design practice, and everything in between.

His work forms part of the permanent collections at Mu.ZEE in Ostend and ING Bank Belgium, and could previously be seen at Neuer Aachener Kunstverein (Aachen), BOZAR (Brussels), the Graham Foundation (Chicago), Pinkpop Festival (Landgraaf) and ANDOR (London).

On Saturday 28 May (8 pm), you are invited to the live performance 1000 BEATS by Pieterjan Ginckels. 1000 BEATS is an orchestra that consists of audio equipment, turntables, amplifiers and mixers brought by the audience. Each turntable plays ONE BEAT, a vinyl single upon which an endless loop of a single second is pressed. 1000 BEATS is an installation on tour, appearing in different configurations in a variety of galleries and museums.